After many years of not having a fully fledged desktop, I decided to invest in a new gaming PC. I didn't want nor need one with all the bells and whiles as I don't do that much gaming on PC (that's what the PS5 is for!) but like every now and then to breakout some strategy games (such as Prison Architect) and Microsoft Flight Simulator.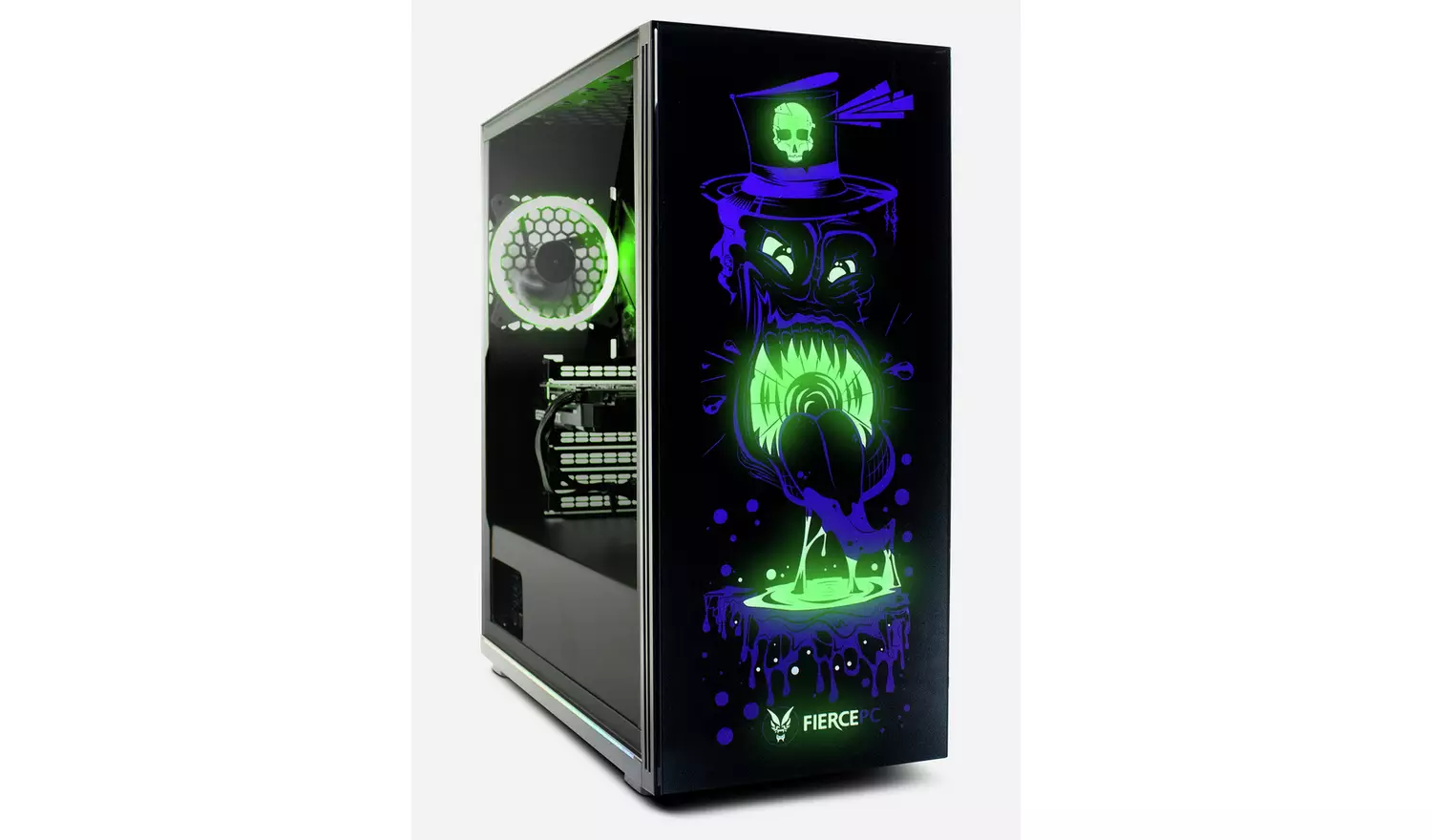 After considering building a new PC, I took the lazy option of buying one online. I decided to for a mid range Fierce Gaming PC sold by Argos. The spec of this machine is:
Intel Core i5 processor (10th Gen) 2.90 GHz burstable to 4.3GHz
16GB (expandable to 64GB) DDR4 RAM
NVIDIA GTX 16 series 1660 with 6GB memory GDDR5.
1TB HDD storage (Hard drive speed 7200RPM)
480GB SSD storage.
MSI H310M PRO-VDH PLUS Motherboard
Aerocool Aero Bronze 650W Power Supply
Interfaces and connectivity:
2 x USB 2.0 ports.
6 x USB 3.0 ports.
6 x USB 3.1 ports.
2 x USB Type-C ports.
Ethernet port.
1 HDMI port.
1 DVI port.
Bluetooth.
E-SATA.
Wireless/Wi-Fi enabled.
The machine was shipped next business day and was very well protected being inside an inner and outer box with plenty of bubble wrap. After opening the boxes and fishing out the usual documents, that were nicely presented in a Fierce drawstring bag, together with a remote control for the RGB internals, I realised how big the Lumia case was. The size is H49, W21.6, D43.5cm and there seems to be a lot of empty space within the case, however this helps with airflow.
The connectivity is plentiful and setup was a breeze. The machine is very fast for day to day tasks such as browsing, email, watching Youtube, reading the Mike-Roberts.co.uk blog! etc. I have put it to the test by downloading and installing Microsoft Flight Simulator 2020 on it, this was completed in around 5 hours. The machine copes well with the gameplay but des take a little while to load. This could be down to the fact that I installed it on the mechanical drive rather than the SSD as it takes a whopping 127GB of free space.
The gaming experience is good for a graphics card that the internet calls "a solid upper-mainstream graphics card" however the lack RT cores means that it doesn't support Ray Tracing. While this means visual effects wont be as good as my PS5 for example, the fact that this PC is plugged into a much smaller display, means I am unlikely to notice the difference.
The layout of the case is a little clumsy and it is very back heavy, most of the ports are on the back, apart from a few USBs on the top of the case and the power button and button to control the front LED panel. The Fierce comes with interchangeable front panels and when you order via Argos the one you get can vary. The internal RGB/LEDs consist of two strips on the base either side of the case and an RGB fan, controlled via the remote controlled supplied.
The system comes with Windows 10 Home installed, something I was a bit apprehensive with, as I have only used the Pro versions previously, however I am yet to find a function that I wanted, that wasn't included.
Overall, I am happy with the PC and for a shade under £900, think that it is good value for money. There are upgrade options in terms of RAM (up to 64GB and, I will likely upgrade in the future). The builders of this machine (Fierce) use known brands (e.g. MSI for the motherboard, Nvidia graphics, Corsair for the RAM, Seagate BarraCuda for the HDD) and this is better than some of the Amazon builds I had spec'd.